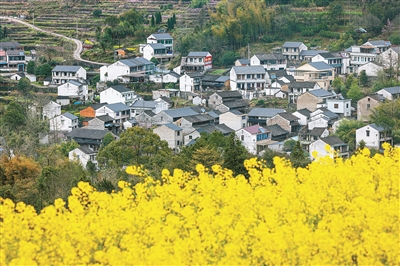 Dayan Village./大堰村。[Photo by Fan Jianwei]樊建威摄

  By Dong Na
  Dayan Village is located along the upper reaches of Fenghua River, backed by the ridges of Tiantai Mountain. It has beautiful scenery and is the hometown of many great politicians and writers, such as Wang Fang, the Minister of Public Works in the Ming Dynasty, and Ba Ren, a famous 20th-century writer. In 2019, it was included in the fifth list of "China's Traditional Villages".
  大堰村地处奉化江上游,背倚天台山余脉,山清水秀、人杰地灵,是明代工部尚书王钫和近代著名作家巴人的故里。2019年被列入第五批中国传统村落名录。
  Dayan Village has a long history and rich cultural heritage. The name "Da Yan" means "big weir" in Chinese, a commemoration of the village's major dam project. The village had a magistrate surnamed Zhou in the Song Dynasty. He mobilized the villagers to build a dam for flood control and irrigation in the nearby river to ensure the safety of the community. Today, several overflow dams have been built in the riverway near the original weir, over which water calmly flows. The trees along the bank and the clear river surface form a beautiful landscape and a natural "water park" for visitors.
  大堰村历史悠久、文化底蕴深厚。其名是为纪念村中建造的大堰工程,宋朝时一位周姓县令发动村民,在村边的河道中修筑了一条用来防洪灌溉的堤坝,以保百姓平安。如今,古堰遗址附近的河道中修建了若干漫水坝,水从坝上缓缓流过。河岸边的古树与清溪组成一幅美丽的画卷,成为村里的玩水胜地。
  Villagers' homes line the river, stretching for nearly a kilometer from north to south. There are many locations of interest in the village: the ancient weir, writer Ba Ren's former residence, historical architecture, and a lane of quaint stores and B&Bs. The village is also surrounded by fitness trails, fruit-picking farms, rafting clubs, and camping resorts that attract many tourists.
  村居沿溪而建,南北绵延近一公里。村子里分布着古堰遗址、巴人故居等文物古迹和古建筑,以及客栈风情街、民宿等。大堰村周边还有许多健身步道、水果基地,以及漂流和露营胜地,吸引众多游客前来观光游玩。