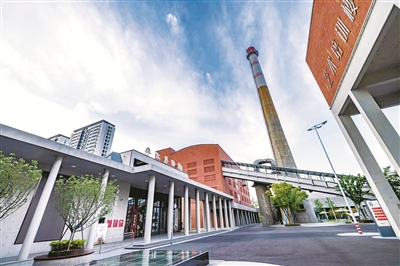 The Fenghua Museum./奉化博物馆。[Photo by Fan Jianwei]樊建威 摄

  By Gou Wen
  The Fenghua Museum, on the premises of the 1986 Culture Square, is modern in style and comprehensive in exhibits. The Museum's main building was the power generation workshop of a retired thermopower plant. During renewal, the architect retained the original elements as much as possible. The museum includes the building, chimney, coal yard, conveying belt, and gallery.
  奉化博物馆位于1986文化广场内,是一座现代化综合性博物馆,主体建筑由原热电厂的发电车间改造而来。建筑尽可能保留了原有要素,由原发电车间以及烟囱、堆煤场、输煤带和画廊共同构成。
  The Museum, winning national top 10 exhibits award by its "Harmony of Mountains and Seas — Fenghua History and Civilization", is the only county-level museum in the honor list this year. This exhibition illustrates the local history, cultural traditions, and folk customs.
  今年,奉化博物馆"山海交响——奉化历史文明展"入选全国博物馆十大陈列展览精品,是今年全国唯一获此殊荣的区(县、市)级博物馆,展示了当地的历史沿革、文化特色和民俗风情。
  Not only does the memory of the city be cherished at the Museum, but also it is taken as a name card for the city's culture. It takes "industrial remains" as the inspiration for the museum layout to demonstrate Fenghua's unique features, making the Museum one of its kind in the nation.
  奉化博物馆不仅融合了城市的记忆,更是城市文化的明信片。其以"工业遗存"角度切入布展,使得奉化博物馆在全国博物馆界有了辨识度。