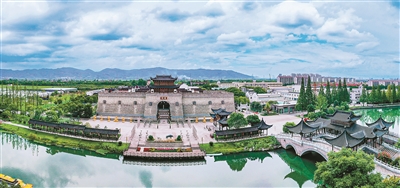 The Tengtou Village. /滕头村。[Photo by Fan Jianwei]樊建威摄
  By Xu Zhuowei
  With an area of 1.2 square kilometers, the Tengtou Village is located in Xiaowangmiao Street, Fenghua District, Ningbo. Over the years, Tengtou has achieved remarkable results in pursuing a development path that features ecological development and affluent life. It has successively won awards such as the "Global 500 Roll of Honour for Environmental Achievement" and the "World's Top Ten Harmonious Villages" and was selected as the world's only village representative for the best practice area of Shanghai World Expo 2010.
  滕头村位于奉化区萧王庙街道,区域面积1.2平方公里。多年来,滕头村坚持走生态发展、生活富裕的发展路子,取得了显著成效,相继荣膺全球生态500佳、世界十佳和谐乡村等殊荣,并作为全球唯一的乡村入选上海世博会城市最佳实践区。
  Though picturesque and prosperous today, Tengtou had its underprivileged and underdeveloped days. Since the early 1960s, a series of initiatives have been taken by the villagers, such as land reclamation, village renovation, enterprises, and eco-tourism, resulting in remarkable economic returns that helped them to achieve the "leap forward" from breaking free from poverty, living a well-off lifestyle, and becoming affluent.
  如今优美如画、富裕繁荣的滕头村,曾经却是一个贫困落后的小村子。20世纪60年代初期,滕头村实施造田工程、改造旧村、兴办企业、发展生态旅游,取得了良好的经济效益,村民的物质生活实现了由贫困到小康再到富裕的跨越。
  Consisting of various function zones, the Tengtou Eco-tourism Area attracts many tourists. For example, one may find Jiangnan-style (southern of the Yangtze River) gardens, Penjing gardens, green promenade, and other scenic spots in the ecotourism zone; plant tissue cultivation centers, flower and seedling parks, seasonal melon and fruit picking area, among others, in the agricultural experience zone; all together creating an unforgettable rural experience for the tourists.
  滕头生态旅游区吸引了无数游客到访,景区以江南风情园、盆景园、绿色长廊等景点组成生态旅游;以植物组培观光园、花卉苗木观赏区、时令瓜果采摘等组成别开生面的农俗风情游乐。