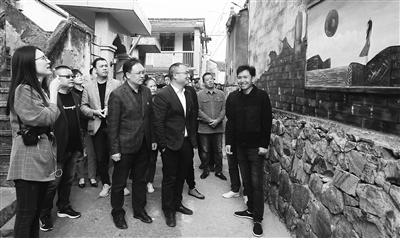 Officials of Qiangjiao Town are having study tour on beautiful countryside.
  (Photo by Wu Ligao)
  "How do you feel about the exam, Mr. Xue?" "Good. It is true that you must live and learn! I never imagined we'd get another chance for further studies." At noon on June 12, Xue Ruiyue, Party secretary of Xiayu Village, Qiangjiao Town finished his last two academic exams for "dual education system" at the adult school, the test center in Qiangjiao, Ninghai County.
  "老薛,感觉考得怎么样?""还行,活到老学到老,想不到我们还能有再次上学的机会。"6月12日中午时分,宁海县强蛟镇成人学校考点结束"双证制"成人高中最后两门文化课考试,该镇下渔村党支部书记薛瑞岳步伐轻松地走出考场和同学交流。
  That day, 36 village officials of Qiangjiao Town participated in the exam. Chen Zhongchang, principal of the adult school, explained that the "dual education system" combines academic education and vocational training. Qualified students would obtain the adult high school diploma issued by Ningbo Education Bureau. Students would not only gain vocational skills, but enhance their educational background through one and a half years of offline and online courses, forming a solid foundation for lifetime learning and giving support for rural revitalization.
  当日,来自强蛟镇各村的36名村干部参加了本次学历提升考试。该镇成校校长陈中常介绍,"双证制"学历培训包括文化课学习和技能培训,达到毕业规定要求的学员,可获得由宁波市教育局颁发的成人高中文凭。经过为期一年半的线下线上学习,这些学员在掌握一技之长的同时,也提高了自身的文化水平,为他们的终身学习打下扎实的基础,也为乡村振兴提供了人才支持。
  Elected to be Party secretary of the Xiayu village at the end of 2020, Xue took the lead in improving the environment and exploiting the local unique fishing village culture with the residents for the art-themed rural rejuvenation. Within a year, the village has experienced significant changes, including the upgrading of over 30 public art facilities. Residents and officials work as one to develop the village and promote civilized rules.
  为了让村庄重新发展振兴起来,薛瑞岳于2020年底当选下渔村党支部书记后,带领村民从村庄环境整治入手,挖掘和开发特色渔村文化,开启"艺术振兴乡村"之路。短短一年,就地改造提升30余个公共艺术空间,整个村子发生了翻天覆地的变化,如今干群凝心聚力谋发展,村风民风明显向好。
  Another village official Luo Chunmao has chosen village tourism as the way to common prosperity. Taking advantage of the local abundant resources and favorable location, his proactive planning for development has created a number of popular tourist destinations to enjoy blooming flowers, sea gazing, coastal trails and experience flower arranging. Designated as a 3A-level scenic village of Zhejiang Province, it attracts hordes of tourists, and meanwhile, the locals also benefit a lot from the tourism by starting businesses in agriculture coffee shops, and inns.
  骆家坑村村干部骆春茂上任以来,把发展乡村旅游作为共同富裕的重要抓手,利用骆家坑坐山面海的区位和资源优势,积极谋划产业发展,开发四季花海、蓝湾营地、滨海栈道、花艺体验馆等一系列旅游产品。"不上不下"的骆家坑一跃成为浙江省3A级景区村庄,每天迎来络绎不绝的各地游客。看到商机的村民们纷纷做起了农家乐、咖啡馆、民宿等生意,尽享乡村旅游发展带来的红利,整个村子走上了富民兴村的康庄大道。
  "We received highly targeted training, which is beneficial for revitalizing the countryside." You Jianzhen, Party chief of Xiashan Village, is a graduate of the last "dual education system" training course. He flings himself into the pursuit of rural revitalization and common prosperity and puts the theoretical knowledge into practice. For example, with the construction of maritime gardens. Through years of unwavering effort, the village has now become a well-known scenic spot with emerging tourist projects, boosting its revitalization and prosperity.
  "培训针对性强,对做好新形势下农村工作受益匪浅。"峡山村党总支书记尤建振是上一届"双证制"培训班的毕业生,他将所学知识转化为干好村庄工作的具体实践,深入实施"党建引领乡村振兴奔共富"工程,着力提升村级党组织的凝聚力和战斗力,大力推进"海上花园"建设,唱响了海洋强村、旅游兴村的新致富经。经过几年的不懈努力,如今峡山成了远近闻名的"网红渔村",旅游新业态如雨后春笋般涌现,有力助推当地共美共富。
  Reporter: Zhong Tingting
  Correspondent: Wu Ligao
  Translator: Mei Jie
  Proofreaders: Puyang Rong, Wang Fang, Jason Mowbray