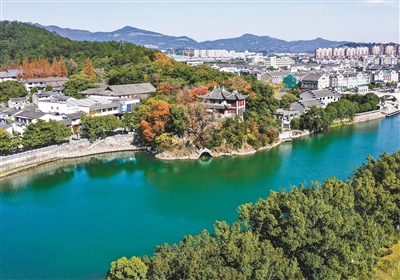 The Xikou Scenic Area. /溪口景区。[Photo by Tang Yan]唐严摄
  By Gou Wen
  As early as the Han Dynasty, Xikou was known as a "seaside fairyland". It is embraced by mountains and rivers. Xikou has a centuries-old town, spectacular valleys and waterfalls, and the gorgeous Tingxia Lake.
  早在汉代,溪口就有"海上蓬莱"之称,这里依山傍水,不仅有千年古镇溪口镇、幽谷飞瀑雪窦山,还有青山秀水亭下湖。
  The Xikou Scenic Area is Ningbo's first 5A-rated tourist destination. Located in Xikou Town of Fenghua district, it borders Wuling to the east, Shanxi River to the south, and Xuedou Mountain to the north. It has beautiful scenery and covers an area of 381 square kilometers.
  溪口景区是宁波首家国家5A级旅游景区。该景区坐落在奉化区溪口镇,东靠武岭,南临剡溪,北靠雪窦山,景色秀丽,区域面积381平方公里。
  Xikou's Xuedou Mountain has a warm and humid climate, four distinct seasons, lush green hillsides, and waterfalls. Xuedou Temple, founded in the Jin Dynasty, has a history of more than 1,700 years and is one of the main tourist attractions of Xikou.
  位于溪口的雪窦山景区气候温暖湿润,四季分明,翠峰寒瀑,气象万千。其中还有一座雪窦寺,创于晋代,至今已有1700余年历史,是溪口主要的旅游景观之一。