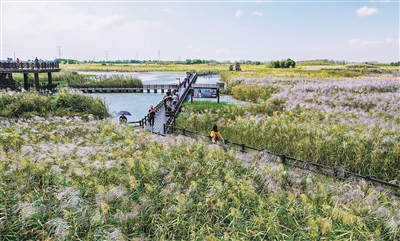 Hangzhou Bay National Wetland Park. /杭州湾国家湿地公园。
[Photo by Xu Neng] 徐能摄
By Xu Zhuowei
Located in the northwest of the Qianwan New Area, Ningbo, the Hangzhou Bay National Wetland Park is an ecological protection center and tourism area with integrated functions of wetland restoration, wetland research, and environmental education.
杭州湾国家湿地公园位于宁波市前湾新区西北部,是集湿地恢复、湿地研究和环境教育于一体的湿地生态保护和旅游区。
The Wetland Park is home to many birds. More than 300 species of birds have been recorded here, including 3 species of national first-class key protected birds, such as Chinese Black-headed Gull, black-faced spoonbill, and Swinhoe's egret. It is a world-class bird watching resort. The plant resources here are also very rich. The good living environment attracts birds to stay and inhabit here.
湿地鸟类资源丰富,目前已记录鸟类300余种,包括黑嘴鸥、黑脸琵鹭、黄嘴白鹭等国家一级重点保护鸟类3种,是世界级观鸟胜地。这里植物资源也非常丰富,良好的生活环境吸引着鸟儿们在此停留栖息。
The Wetland Education Center Building is a landmark in the Wetland Park. It hosts a 6D dynamic cinema for bird migration, a wetland migratory bird museum, and other projects. Visitors will not only enjoy the wetland scenery here, but also receive science education.
湿地教育中心大楼是湿地公园的地标性建筑,设有鸟类迁徙6D动感影院、湿地候鸟博物馆等项目,游客不仅可以在此观赏湿地风景,还能接受科普教育。