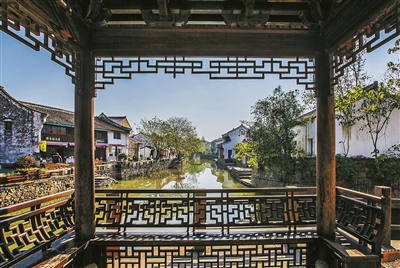 Minghe Ancient Town./鸣鹤古镇。 [Photo by Tang Yan] 唐严摄
  By Xu Zhuowei
  Minghe Ancient Town is located in the south of Guanhaiwei Town, Cixi County, Ningbo. It is a famous historical and cultural town in China and has a history of more than 1,200 years. Rivers run through the hillside town, in which fishermen and farmers live.
  鸣鹤古镇位于宁波市慈溪市观海卫镇南部,迄今已有1200余年历史,是中国历史文化名镇。古镇依山成街,因河成镇,渔耕人家枕河而居。
  Minghe Ancient Town is the birthplace of China's TCM ingredients industry, with roots that go back to the Ming and Qing dynasties. The first residents of Minghe started a trade in medicinal herbs and materials, which greatly promoted the development of the pharmaceutical industry in Zhejiang and across the whole country. More than 150 centuries-old TCM ingredient brands, such as Beijing Tongrentang, Tianjin Darentang and Hangzhou Huqingyutang, were either founded or run by Minghe locals. These brands still have far-reaching influence.
  鸣鹤古镇自明清以来就是中国国药业的发源地,鸣鹤先人在这里兴办国药业,开创慈溪国药贸易之先河,极大地推动了浙江乃至全国的药业发展。从鸣鹤古镇走出了由鸣鹤人创办或主要经营百年以上的老字号150余家,北京同仁堂、天津达仁堂、杭州胡庆余堂等名震全国,影响深远。
  Currently, Minghe has several blocks dedicated to TCM treatment, wellness, and local culture. Every year, activities such as wellness tourism fairs and free TCM doctor consultations are organized in the town. There is also a TCM ingredients and customs museum as well as TCM-themed B&Bs. These elements highlight the town's deep ties with TCM.
  目前,鸣鹤古镇已初步形成"专业医疗、特色养生、休闲文化"等国药养生功能板块,每年组织古镇养生旅游节、鸣鹤名中医专家义诊等活动,设立国药人文展示馆,打造国药装饰为元素的精品民宿,逐步营造国药氛围。