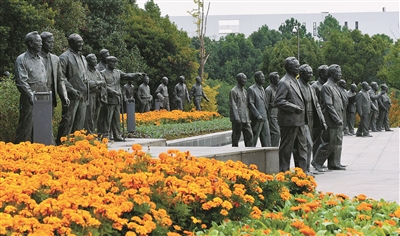 Ningbo Academician Park. /宁波院士公园。 [Photo by Tang Yan] 唐严摄
By Xu Zhuowei
Ningbo Academician Park is located in Yinzhou's Higher Education Park. It was built to celebrate the achievements of Ningbo academicians in the Chinese Academy of Science and Chinese Academy of Engineering. The Park has lush woods, emerald lawns, and a clear, winding stream.
宁波院士公园位于高教园区内,是为了表彰和纪念宁波籍院士的功绩而建设的。公园内乔木森森、绿草茵茵,一条清澈的小河蜿蜒流过。
There are 89 bronze statues of Ningbo academicians in the Park, including Tong Dizhou, "the father of cloning in China"; Bei Shizhang, "the father of Chinese biophysics"; geneticist Tan Jiazhen; communications engineering expert Zhu Gaofeng; mathematician Chen Shuxing, and more.
院士公园矗立着89尊宁波籍两院院士的铜雕像,包括"中国克隆之父"童第周院士、中国生物物理学奠基人贝时璋院士、遗传学家谈家桢院士、点燃中国通信工程之光的朱高峰院士、数学家陈恕行院士等。
Ningbo is well-known in China for producing great scholars and researchers. There are currently 120 CAS and CAE academicians who can trace their roots back to Ningbo. Not only have they made great contributions to the advancement of science and technology in China, they also hold high prestige internationally.
宁波钟灵毓秀、人才荟萃,是中国著名的院士之乡。截至2021年底,宁波有两院院士120人,他们不但为中国科技发展作出了巨大贡献,在国际上也拥有崇高的威望。