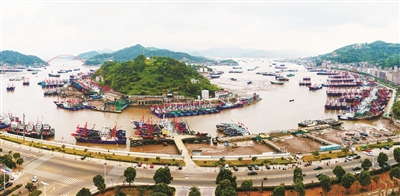 Ships in Shipu Fishing Port. /停泊在石浦渔港的船只。 [Photo by Tang Yan] 唐严摄
  By Xu Zhuowei
  Located in Xiangshan, Ningbo and a well-known haven on the southeast coast of China, the Shipu Fishing Port is a crescent-shaped harbour that can accommodate tens of thousands of fishing boats.
  石浦渔港位于宁波市象山县,为"月牙"状港湾,可泊万艘渔船,是东南沿海著名的避风良港。
  With more than six centuries of history, the ancient Shipu City has been home to generations of fishing communities who have created and preserved rich fishing culture and customs in their sea-based livelihood. There are many old houses and historic sites in Shipu old streets, where the traces of life left by the ancestors in the fishing port are vividly remembered.
  600余年历史的石浦渔港古城,蕴含广博的渔文化和渔风情,居民世世代代以海为生。在石浦老街上有不少老宅和古迹,渔港先人留下的生活痕迹历历在目。
  Shipu is one of the earliest cradles of marine fisheries in China. As early as in the Qin and Han dynasties, the ancestors started to fish and hunt here. It grew to be a renowned fishing port and coastal defence fortress in the Tang and Song dynasties. Today, Shipu is a national Class II open port, the No.1 fishery town in China, and a recognized historical and cultural town in Zhejiang Province.
  石浦是中国最早海洋渔业发祥地之一,秦汉时即有先民在此渔猎生息,唐宋时已成为远近闻名的渔商埠,海防要塞。如今,石浦是国家二类开放口岸、全国渔业第一镇、浙江省首批历史文化名镇。