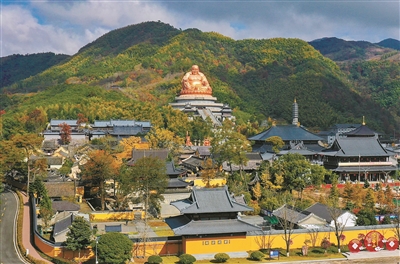 Mount Xuedou./雪窦山。[Photo by Tang Yan]唐严摄
By Xu Zhuowei
Located in Xikou Town, Fenghua District, Ningbo, Mount Xuedou is known as one of the five famous Buddhist mountains in China and also "the first mountain of Siming". Surrounded by numerous peaks, Mount Xuedou has spectacular waterfalls and splendid scenery.
雪窦山被誉为"四明第一山",是中国五大佛教名山之一,位于浙江省宁波市奉化区溪口镇。雪窦山九峰环抱,瀑布齐鸣,景色秀丽。
The famous tourist attractions of Mount Xuedou include the Qianzhangyan Waterfall, the Xufuyan Waterfall, the Miaogaotai Platform, and the most representative one is Xuedou Temple. Located in the center of Mount Xuedou and having a history of more than 1,700 years, the Temple was founded in the Jin Dynasty, prospered in the Tang Dynasty, and flourished in the Song Dynasty.
雪窦山的标志性景点包括千丈岩、徐凫岩、妙高台等,其中最著名的属雪窦寺。位于雪窦山山心的雪窦寺,创于晋朝,兴于大唐,盛于两宋,至今已有1700余年的历史。
There is a gigantic Maitreya Buddha statue in Xuedou Temple. The statue depicts the image of the Budai monk, with a cloth bag in his left hand and a Buddhist bracelet in the right. With a total height of 56.74 meters, the Buddha statue looks magnificent and extraordinary, fully representing the inclusiveness, joy, mercy, and ease philosophy of the Maitreya Buudhist culture.
雪窦寺内有一尊弥勒大佛像。大佛以布袋和尚为造型,左手提布袋,右手握佛珠,袒胸露腹,笑容可掬。大佛通高56.74米,宏伟壮观,气势非凡,展示弥勒文化包容、欢喜、慈悲、自在的精神和理念。
Mount Xuedou has attracted countless intellectuals and tourists for its time-honored Buddhist culture and beautiful scenery. Now it has become a national tourist attraction and a must-come-to place for tourists.
雪窦山悠久的佛教文化和瑰丽的风景名胜,吸引了无数文人墨客到访。如今,雪窦山已成为国家级旅游景区,是游客必"打卡"的地方。